About fifty years ago on a cold winter day, the grandfather of the current proprietor of "Ryuusenkaku" was walking in the mountains of Arima when he suddenly spotted a den of snakes rolled up in coils. The grandfather thought, "Snakes are supposed to be hibernating in the middle of winter. This must mean that there is a hot spring here!"

He dug a hole at that place where he had seen the snakes and a bountiful quantity of hot water gushed from the ground like a spring. He decided to build a Japanese inn on that spot, and had wanted to name the inn "Snake Spring Inn" in honor of the snakes, but all of his family members were adamantly against it saying, "That's a frightening name; it has a bad meaning."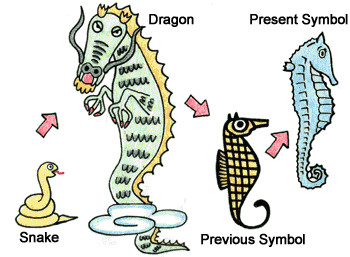 Finally, having been discouraged from his first choice, the grandfather began thinking of something similar to a snake that brings good luck and dwells in the heavens. He decided on a dragon and named the inn "Ryuusenkaku," or Dragon Spring Inn. No one knows quite when it happened, but sometime after that, the symbol of the inn changed from a dragon to an adorable seahorse. Incidentally, at the foot of the mountain on which Ryuusenkaku was built with its excellent view, there is a river called "Snake Valley River" flowing through the gorge.

From now and forever, we would like to continue with the grandfather's thoughts by preserving and nurturing Motoyu Ryuusenkaku and not forget the "Two Gods and Three Crows" or the "Three Patrons of Arima" as we strive for the continued prosperity of Arima Onsen.