Many, many years ago there was a time when it rained days without end in the Kobe area, causing the hot springs at Arima to stop gushing and the landscape to radically deteriorate. This decline existed until one spring about a hundred years later (about 800 years ago).


A Buddhist priest called Saint Ninsai of Yoshino was in the midst of his religious training when the incarnation of Buddha appeared and divinely revealed to Saint Ninsai, "In the Settsu country, there are hot springs on the Mount Arima. These springs are effective in curing illness, and I want you to build an onsen there. I will have the spider of the garden tree guide you to the location."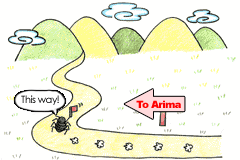 The following morning, Saint Ninsai left to search for Arima Onsen without delay and began pursuing a spider climbing the steep mountain of Rokko when suddenly the spider disappeared, and Saint Ninsai didn't know which way to go.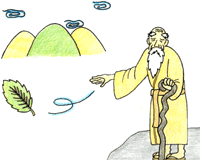 It was at this time that an old man with a very white beard appeared holding a tree leaf in his hand. The old man said, "A hot spring can be found at the place where this falls," and he threw the leaf toward the east and disappeared. Saint Ninsai said, "That couldn't be anyone else but the incarnated Buddha!" and he held his hands in prayer to the southern sky. Saint Ninsai stood up and went in search of the tree leaf.


The next day as he had descended a mountain, Saint Ninsai found the leaf, and he dug at the place where it had fallen. When he dug into the ground, water from a hot spring gushed out, and that is the place where Arima Onsen currently stands. Saint Gyoki, Saint Ninsai, and Toyotomi Hideyoshi are said to be the three patrons of Arima.