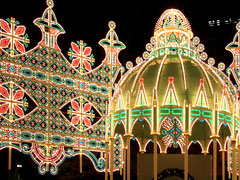 "Luminarie" is the plural form of Italian word "luminaria" that stands for Illumination with miniature bulbs. The Kobe Luminarie is held every year from early December for twelve days. It began eleven months after the Kobe Earthquake in 1995 with the hope to give courage and greatly inspire the people of Kobe. Because there was a strong desire for continuation after its conclusion, it became an annual event symbolizing the hope of Kobe citizens. The Kobe Luminarie 2014 is held from December 4th (Thurs) to 15th (Mon) south to the Hanshin Railway between Motomachi and Sannomiya station. The 2014 theme is "Kobe, City of Dreams and the Light."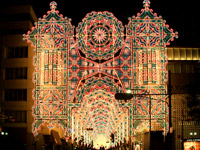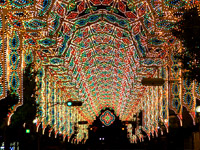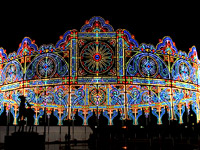 20th Kobe Luminarie
Theme
"Kobe, City of Dreams and the Light" (Kobe, citta dei Sogni e della Luce)
Dates
December 4th (Thurs) to 15th (Mon), 2014
Times
Monday-Thursday: 18:00 to 21:30
Friday: 18:00 to 22:00
Saturday: 17:00 to 22:00
Sunday: 17:00 to 21:30
※Time change for illumination can occur by inclement weather or crowd congestion.
Location
Located south of Hanshin Railway (between Motomachi and Sannomiya stations) and extends from Old Foreign Settlement to Higash-yuenchi Park in Chuo-ku, Kobe.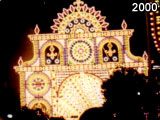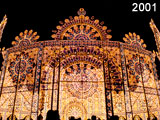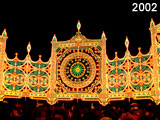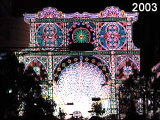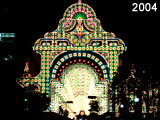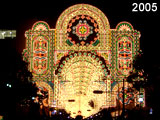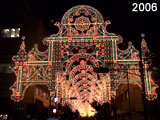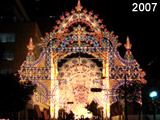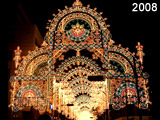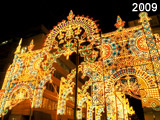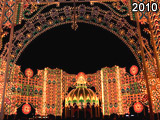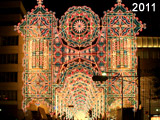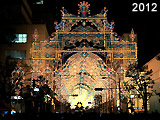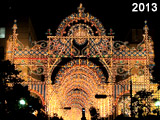 Visitors
(1,000 people)
Exhibition Theme
[ English ]
Exhibition Theme
[ Italian ]
1st (1995)
2,540
Of Dreams and the Light
Dei sogni e della Luce
2nd (1996)
3,860
Hymns for the Light
Ode per la Luce
3rd (1997)
4,730
The Stars of the Earth
Le stelle della terra
4th (1998)
5,160
Firmament of the Light
Firmamento di Luce
5th (1999)
5,160
In the Sky with the Pure Light
Nel cielo di pura Luce
6th (2000)
4,740
The Infinite
L'infinito
7th (2001)
5,190
Desire of the Light
Desiderio di Luce
8th (2002)
4,640
The Light is life
La Luce vita
9th (2003)
5,070
The Light of the Horizon
La Luce dell'orizzonte
10th (2004)
5,380
The City of the Light
La citt della Luce
11th (2005)
4,360
Beginning of the Second Chapter of the Light
Inizia il secondo capitolo della Luce
12th (2006)
4,650
Fascination of the Sky
L'incanto del cielo
13th (2007)
4,043
Epoch of the Light
L'era della Luce
14th (2008)
3,755
Light of the Infinite
Luce d'infinito
15th (2009)
3,650
Embrace of the Light
L'abbraccio della Luce
16th (2010)
3,434
The heart in the Light
Il cuore nella Luce
17th (2011)
3,421
The Lights of Hope
Luci di speranza
18th (2012)
3,401
The Light of KIZUNA for Solidarity, Fraternity, and Unity
La Luce di KIZUNA, la solidarietà, la fratellanza e il legame
19th (2013)
3,541
A Memory of the Light
Memoria della Luce
20th (2014)
Kobe, City of Dreams and the Light
Kobe, citta dei Sogni e della Luce

Because the roads around the illumination area are crowded, we suggest using public transportation from Arima Onsen to the exposition site. Traffic flow in the area is restricted to moving easterly from Motomachi to Sannomiya in order to control the great movement of people wanting to enter the Luminarie exposition site. When getting off the train at Sannomiya, you should be attentive to the direction you are going since you will only be able to see the Higash-yuenchi Park from the distance.

Kobe Railway [ Arima Onsen → Arima-guchi → Tanigami ]

| | Weekdays | Sunday/National Holidays |
| --- | --- | --- |
| 16:00 | 9 24 39 54 | 9 24 39 54 |
| 17:00 | 9 24 39 54 | 9 24 38 52 |
| 18:00 | 9 24 39 54 | 7 23 37 52 |
| 19:00 | 9 25 40 54 | 8 21 38 52 |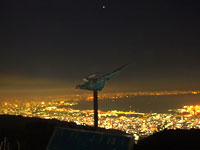 The project for the Heritage of Japanese Night Views selected this scenic view that is said to be a 10 million dollar view. This lookout commonly visited by travelers to Kobe is in the immediate vicinity of the Rokko Cable Sanjo Station and is one of several places on Mt. Rokko for gaining an expansive night view of the sea of city lights spreading out from Osaka, Kobe, and Awaji Island. In 1981, the Emperor Showa came to this spot and commemorated it as Tenrandai. Since the parking lot and lookout are open free of charge 24 hours a day, this spot can be easily reached and is a popular destination, day and night, because of its shops and coffee shop. On a clear day in the distance, you can see the Kansai airport and the business district of Osaka to the east and the Akashi Strait Bridge, the longest suspension bridge in the world, and Awaji Island to the west. Moreover, you can clearly see the scene from the Kobe city district to the several manmade Islands, such as Rokko Island, Port Island, and the Kobe Airport Island.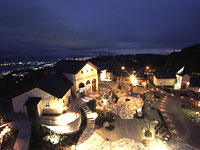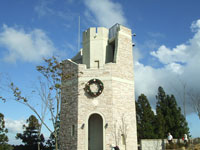 Conceived in a concept reminiscent of a country town in Europe, the Rokko Garden Terrace opened after remodeling in 2004 and is must-see spot with its fashionable knickknack shops and restaurant built together on top of Mt. Rokko. From the Lookout Tower at a height of 888m you can have an unfettered view of Osaka Bay. On a clear day, visitors can see a dynamic view of from the Akashi Strait Bridge to the Kansai International Airport lay before them as well as the Osaka Plain. Within this 180-degree panoramic view, you can take delight in the shopping and gourmet cuisine and enjoy a relaxing time.
| | |
| --- | --- |
| Access | Walk about 8 minutes from the Rokko Sancho Station on the Arima-Rokko Ropeway |
| Business Hours | 9:00-21:00 (Hours vary according to shop, season, and weather.) |
| Closed on | Opened 7 days a week except during the winter season. |
| TEL | 078-894-2281 |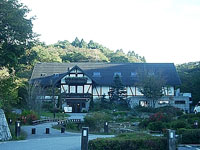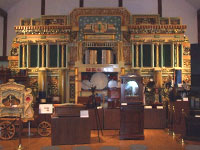 In the vicinity of the Alpine Botanical Garden, there is a museum for music boxes established in 1994 called Rokko International Musical Box Museum. The unconventional building in the style of a German or Swiss mansion is a musical box museum that stores a multitude of automatic performing instruments starting with musical boxes that were in their zenith 100 years before and shows how these instruments were used in daily life in each period and each country. There is a regular concert seven times a day and visitors can participate in the performance with a hand-cranked barrel organ. Since there is museum cafe and museum shop, you can stay in the mood after the concert with dinner and coffee and enjoy browsing over the original music boxes and antiques sold in the gift shop.
During the Christmas season, there are events such as performance of Christmas carols, memorable Christmas music, and Christmas night concerts (reservations required).
| | |
| --- | --- |
| Access | From the Rokko Sancho Station on the Arima-Rokko Ropeway, take the Rokko Sanjo Bus, and get off at "Rokko International Musical Box Museum." |
| Business Hours | 10:00-17:00 Admission: until an hour earlier |
| Closed on | Thursday (Opened in the summer season and national holidays) and Dec 31st-Jan 1st |
| Admission Fee | 1,030 yen |
| TEL | 078-891-1284 |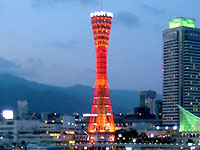 Standing 108m high in the shape of a Japanese drum, the bright red Kobe Port Tower is beautifully lit up at night and serves as the symbol of Kobe Port. On the top floor is an observatory deck offering a 360-degree panoramic view from Mt. Rokko, Mt. Maya, and the urban districts of Kobe City to Kobe Port and Port Island for a spectacular night view. This popular sightseeing attraction with its pipe design was a worldwide first and has won numerous architectural awards for its unique structure. You will never grow tired of looking down at the harbor, a view that is particularly spectacular at night from sunset until 22:30.
Access: The tower is an approximately 7-minute walk south of the Minato Motomachi Station on the Kaigan Line of the subway and a 15-minute walk from Motomachi stations of JR, Hanshin, and Hankyu railways.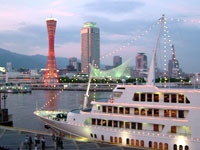 Cruises originating from Kobe Harbor offer spectacular views of Kobe with the towering mountain range of Mt. Rokko overlooking the Seto Inland Sea and extending along the coast like a folding screen. With its beautiful scenery, Kobe, a prosperous port city that served as a gateway to Kyushu and Mainland China almost 1000 years before, developed as a harbor for international trade after the Meiji Restoration and was a site for foreign settlements. Today, Kobe maintains its international atmosphere with many exotic sightseeing places teeming with multi-cultures from other countries. A variety of cruises are available from Kobe Harbor ranging in length from 30 minutes to more than 2 hours. Those taking the Akashi Kaikyo Bridge dinner cruise will be impressed with the incredible night view that appears like a glittering white pearl necklace floating on the dark sea.
Also, in December, the "Kobe Luminarie Commemorative Cruise" and the "White Christmas Cruise" are in service for a limited time to allow visitors a chance to enjoy dinner filled with mood added by live jazz music.
| Vessel | Hours of operation | Terminal | TEL |
| --- | --- | --- | --- |
| Luminous Kobe-2 | 12:00-21:20 | Oriental Hotel (2F lobby) | 078-333-8414 |
| Concerto | 12:00-21:05 | Takahama Quay in front of Mosaic | 078-360-5600 |
| Fantasy | 10:00-20:00 | Naka Pier Central Terminal (Kamomeria) | 078-360-0731 |
| Royal Princess | 10:45-every hour | Naka Pier Central Terminal (Kamomeria) | 078-360-0039 |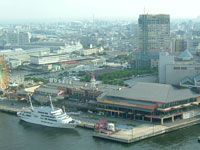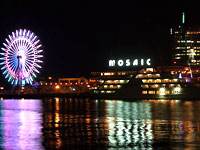 Harbor Land is a fashionable area on the waterfront with a full array of amusements and shopping adjoined by the Kobe Port Tower and Naka Pier along with a promenade. Adjacent to the Naka Pier is "Mosaic," a multifaceted commercial park popular for its open mall lined with stores and the large open space looking out upon the sea. The various facilities providing enjoyment include Cinema Mosaic, a movie theater, and the Mosaic Garden, an amusement park with a marvelous view of the sea. On the second floor of Mosaic, there is a blue Christmas tree called "Marine" located in the Seaside Plaza on the 2nd floor of the Mosaic and lit up from sunset to 24:15 until December 25th. The tree stands 6m high and has approximately 10,000 blue LEDS decorating it. The sight of the vivid blue color shining against the background of the bright red Port Tower is especially romantic.
The street along the brick warehouse west of Mosaic is lit with retro Kobe gas streetlights to provide a distinct winter's interlude of pure white splendor with soft lighting from these gas streetlights along with 80,000 illuminations shining every night(17:00-23:00)in the 350m row of zelkova trees, a beautiful image that can be seen until the end of March. During this period, the lights are extinguished nightly at 19:59 for the "Harbor wink," which serves as stage direction for the lights to reappear at 20:00 for an even greater fantastical mood enhanced with background music. This special event occurs from the last ten days in November to the last ten days in December.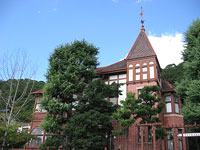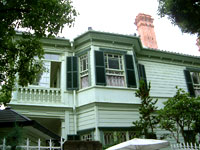 If you exit the east exit of the Hankyu Sannomiya station and walk up the gentle slope (Kitano Hill) for about 15 minutes, you will reach Yamamoto Street. (also known as the "Western-style Houses). This street on the mountainside is a popular place for sightseeing, and there are many western-style houses built here.
Accompanying the opening of the Kobe Port in 1868, a foreign settlement area was created on the west side of the current city hall, but the number of foreigners coming to Japan quickly rose and there was a housing shortage. The west side of Mt. Rokko had a good view and became a popular residential place for foreigners.
Actual construction started in the 1890s and more than 200 houses were built in only fifty years, more than 200 western-style houses were built and gave the landscape an exotic view.
Unfortunately, the vast majority of houses were destroyed either by World War II or by large earthquakes, leaving approximately 60 houses left of the original Western-styled houses. The area containing the Western-styled houses was designated as an "important historical restoration area" with 34 of the houses having been designated as an "important cultural assets of Japan" or "traditional building." Some of these houses are open to the public.